This week we launch our Business Intelligence solution for the cloud – Business Impact's SaaS (Software-as-a-Service) solution.  Clients often ask us, why BI in the cloud?  What does business intelligence in the cloud do for my organization?  What will my company gain with a cloud BI solution?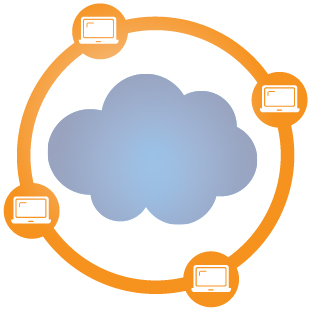 There are key benefits to a cloud BI solution for any organization.  Outlined below are a few of the reasons companies prefer a cloud solution over an on premise offering.
Affordable
Let's face it, software solutions that are essential to the organization are expensive.  The software companies work diligently to keep their software up-to-date, cutting edge, and ahead of their competition.  It takes a lot of development cost to keep up in the technology world.  Clients are continuing to want the latest and greatest and software companies aim to make that happen.
With any SaaS solution, a customer pays a monthly subscription to lease the most current version of the software.  You "pay as you go" and always have the latest and greatest for your team.  Everything is included in your monthly low cost price per user fee, so there's no unexpected out of pocket expenses throughout the year. You never have to consider a costly upgrade to a newer version that you own.  Your company always receives the current version of the solution when it's released.  A cloud BI solution makes Business Intelligence affordable and attainable for even a smaller organization.  BI is not just for the "big boys" any longer.
CapEx versus OpEx Expenditure
A cloud offering moves the expenditure from CapEx (Capital Expenditure) to an OpEx (Operating Expenditure).  Now you still have the cost and outgoing of cash flow for the solution.  However it's on a monthly basis, instead of a huge upfront expenditure.  Many organizations need approval from a committee to spend over a certain amount on a capital expenditure.  For many companies, it's much easier to get approval for an operating expenditure then it is to get financial backing and buy-in from the entire decision making team.
A cloud BI tool extends to the entire organization, and the wealth of information that the leaders in the company will have access to will be huge for future decision making.  However, there's always finite budgets for capital expenditures, and by having an option for it to be an operating expense often frees monies for other competing larger expenditures.  Often by moving the cost to an operating expense a department head can authorize a purchase and get their BI solution up and running quickly.
Low Risk
A cloud subscription based software solution is a diminished commitment.  With little upfront investment, you aren't tied into a product like an on premise solution.  When paying for a cloud offering you pay your subscription fee and usually have a three year commitment with stated monthly subscription pricing.  So you know what the cost is per user, and you pay as you go.  If you no longer are interested in the product you move on after your subscription period ends.  If the product is still providing the value you expected after your subscription ends – you have the option of continuing service.  It's a great way to reduce risk when purchasing a new solution.
Quick to Implement
With no capital expenditure, a cloud BI offering lowers the barriers to entry into the Business Intelligence space.  There's no need to set up a traditional IT environment, which means your cloud BI solution can be rolled out faster and to more people within your company.
Companies are always surprised at how quickly they can get access to their data visually.  Your team will be making forward thinking business decisions on data they never had access to all in one place.  A quick implementation means your team is getting the benefit of the solution today!
Frees Up IT Staff
A cloud BI solution is an easy way to keep up with technology that your IT staff does not have to manage.  Every IT department has limited resources, and cloud BI won't add to their already full plate. There's no reason for them to maintain another BI project or to be tied up building tons of standard reports.  With cloud BI your users have power to manage their own reports and can slice and dice their data.  IT doesn't have to hold the user's hands, freeing them up for more strategic IT initiatives.
BI Analytics for Everyone
With a cloud BI solution you pay per user.  You only pay for what's being used, which is a great way to save costs as well.  If you want to roll the solution out to more people, you only add additional users and with a little training they are up and running with the information they need to do their job more efficiently.  It's that easy!  Expanding the power of a cloud BI to others is simple and takes little effort.
The lower Total Cost of Ownership and overall resource reduction in the IT department is increasingly appealing to our clients and prospects.  We are excited to be launching this new affordable offering to provide business analytics to all organizations no matter their size.
Please contact Eric Wenham for pricing or to find out more about how cloud BI can benefit your organization.
Eric Wenham
216 337 7386 mobile
ewenham@BusinessImpactInc.com