The rise of cloud technology, applications and its other components have totally flipped the technology industry on its head. Businesses and individuals have both benefited from the cloud's ability to store their data wirelessly and in a way that is accessible from any location with wireless internet capability. And as it becomes more ubiquitous, more companies are looking to implement a cloud IT infrastructure to gain a competitive advantage over their rivals.
And cloud technology has definitely given some business owners the advantage by being able to utilize a more agile infrastructure that not only saves space, but creates more opportunity for where and how work is done. On the flip side, as many are making use of this new age resource, some are still left in the dust and fail to fully comprehend the mechanics of the technology.
That's why we've broken down the most common misconceptions to clear up some of the characteristics that cloud technology can offer you.
It's Less Safe Than Other Methods
The literal imagery of a cloud storing your information makes it easy to assume that it's in a vulnerable location that can easily be accessed. However, this is not the case. In fact, according to Gartner, more security breaches take place in on-premises data center environments.
Cloud storage areas are easily tempting as they store the information of several organizations, but additional security measures like encryption serve as an extra layer that prohibits access even when a cloud center's security is compromised.
Once You Switch, It's for the Entire Company
Another common misconception is that once a business decides to switch to cloud computing or storage, that is also applies to every possible area of the company as well. And that's not necessarily the case. It's absolutely depends on your company's unique needs, current infrastructure and capacity.
It's imperative to weight your options and list out the benefits of both cloud and non-cloud technology. For some processes or areas of your business, having an on-site solution may work best. To maximize your efficiency, many businesses are employing a hybrid structure where different vendors handle different tasks. Whatever works best for your business should be the top priority as a uniform platform may not be perfect.
It Will Cost More Than On-Site Storage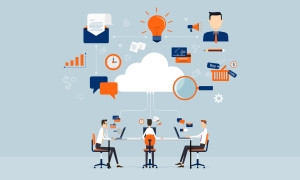 This is also not necessarily the case. Switching to cloud takes away the financial need to hire an IT team to manage the technical aspects of your business. And in the long run, the responsibility of managing your cloud computing is put in your hands and will save you in the long run. Of course, however, this depends on how you will use the cloud.
For example, if you decide to build apps to reduce the need to purchase new hardware, this can amount to more than if you stayed with your previous infrastructure.
Productivity Will Spike Automatically
Just because you've implemented a new cloud structure doesn't mean not much work is needed to see results. While some companies build applications that are hosted on the cloud, it can be a huge benefit to spend time figuring out how it can be best used. Combining both cloud and local storage to host your app is suggested to give you some flexibility and redundancy when using the app. It can certainly help productivity, but don't bank on the cloud technology to do all the work for you.
In summary, making the switch to cloud, especially for your business intelligence needs, has the potential to greatly improve and simplify the way your company operates. With the use of a specialist to guide you through the process and an eager team that's ready to maximize their performance, the possibilities for growth and productivity are endless — if implemented the right way, of course.
Don't allow these misconceptions hinder you from exploring new options, but rather, let them guide you in making the right choice for your business, employees and customers.