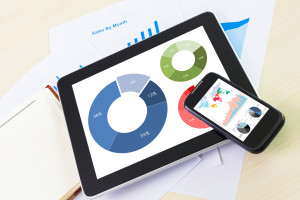 Your business intelligence solution's main responsibility is to provide you with convenient, efficient and accessible data that allows you to make confident business choices as a result. Does yours fill those needs?
As the 21st century's technology continues to improve the way businesses are run and the way mobile devices are valued, it's only right that these two enhancements have found a way to integrate and impact your decision making.
Management teams across the country are now taking advantage of mobile business intelligence solutions and are taking matters into their own hands — literally. See, not every CEO stays in the office from 9-5 adamantly gazing at a computer screen feverishly plotting their next business move like a chess match.
Many decision-makers are on-the-go from meetings to conferences to boardrooms to airports and beyond. And with an executive's increased mobility comes the growing need to stay on top of your company's KPIs. And here comes the emergence and importance of mobile business intelligence.
Things to Consider Before Going Mobile
Now, before you take the leap in optimizing your big data collection for your mobile team members, there are a few factors we suggest you take into account. Below, we've outlined these pointers to help you make the better decision in your next business intelligence upgrade.
Data Consolidation
In the same way that having all of your stores' numbers, charts, graphs and projections in one convenient location is highly valued, you can imagine how important it is on your mobile device. Since you won't have a big computer screen to analyze your data, your mobile BI solution must have a simple design that is both easy-to-use and highly-detailed .
Especially if you're collecting data from a variety of sources (POS systems, inventory control, financials, shipments, etc), your priority should surpass gathering, but should also include ease of readability. After all, what good is your data if it's too difficult to interpret?
The best, most useful mobile BI solutions for your executive team will give you the ability to consolidate ALL of your necessary information into one simple interface so you can perform your analysis with no confusion and total confidence.
Security
Along with any technology that you'll be implementing into your company, security should always play a factor in your choice. From shielding your company stats and trajectories from competitors to protecting your clients' personal information, there are plenty of reasons to maintain a secure BI software.
For hackers or cyber criminals, being able to access your BI software would be a goldmine. Here is where you have all of most precious business data and projections in one place, where one breach could compromise your company's future. This is why we advise you to inquire about your next BI solution's security specs before you make the big decision.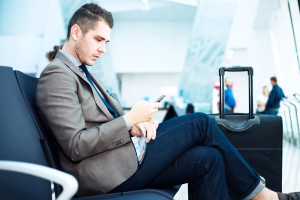 User-Friendliness
Once you've found the application that allows you to consolidate your desired statistics, you must ask yourself: am I able to easily maneuver within this program?
The last thing you'll want to do is invest in a system that does the job you want, but with none of the user-friendliness you need to capitalize its capabilities. Part of this user experience should include the ability to use the software on your smartphone and on a desktop with minimal discrepancies.
Real-time technology is another feature that you should expect from a mobile BI solution. While you're away from the office, business is still going on and the data on your smartphone or tablet should update in real-time. Imagine having a phone conference with your team while on vacation and still be able to contribute to the meeting and follow along in the presentation.
No matter your choice, be sure to take these factors into consideration before you invest in a sub-par mobile BI solution. Our representatives will be glad to help you make the right decision. Contact us to talk over your mobile business intelligence solution today!