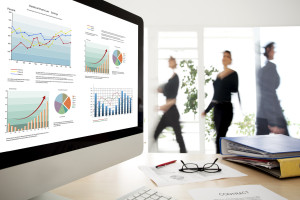 In today's age of business, there are several resources for the workplace that aim to help you run your business easier and more smoothly. And if you're in the market for a business intelligence (BI) solution to capture and analyze your company statistics, there are some important factors you must consider before investing in a long-term addition to your business.
If you're a new business, there will be several BI specialists who are anxious to persuade you to sign up for their services, partners and affiliates. However, if your goal is to find the perfect BI solution independent of any influences, let us give you an objective starting point. Here are five important characteristics to take into account during your search.
Ease of Use/Visibility
Unless you come from an IT background or are familiar with handling raw data, the primary trait  you should be looking for is the easiness of interpreting the statistics. What good would the data be, if you're spending ample amounts of time trying to decipher what each column and row means?
Being able to use a user-friendly dashboard to navigate a complex data source goes a long way in helping you make more sound business choices. And it's not just for you at this point — the simplicity of your BI solution benefits your entire management team. The easier and more often they're able to access and analyze company statistics means you'll get to reap the benefits of better work distribution.
Real-Time Capability
Sometimes you need those numbers NOW. Perhaps you want to see how a store is operating at the moment or maybe you can't afford to wait until the workday cycle has ended. Whatever your case, there's no reason why you shouldn't take advantage of having real-time capability in your data collection efforts.
Security
While you probably won't have sensitive customer data being used in your data sources, you should still want to protect your earnings and other precious statistics from being exposed — or worse — manipulated. Eliminate unnecessary worrying from taking a hold on your conscience by enrolling in a business intelligence solution that priorities security.
More specifically, be sure to see if the solution you're interested in has data encryption technology or password protection features that can give you and your management team an increased peace of mind.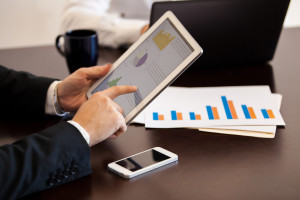 Well-Suited to Your Industry
This one may be one of the more obvious reasons, but sometimes business owners get persuaded by tools that promote a one-size-fits-all approach. Don't settle for these solutions, but rather find one that caters to your industry-specific needs. Sometimes, these solutions can even teach you a thing or two about statistics that you never recorded before, but could work wonders for you in the future.
Plus, it helps to work with a technology that already knows the particulars that you value. It makes it easier for when it's time to setup the technology with training sessions for your management staff becoming shorter — giving you more time to focus on running your company.
Mobility
Along with the increasing presence of smartphones and tablets in the workplace comes more non-traditional jobs where the hours are more flexible. How many times have you come in early, stayed later, worked from home or during your commute to handle the finishing touches of a report?
Now imagine having the same capability with your business intelligence solution. While on the go, you'll have the ability to measure statistics, alter algorithms, track sales and much more, all at your fingertips.
No matter your choice for your business solution, we want to help you make the right choice. Here at Business Impact, we truly understand the importance of having a BI solution that serves all your needs, no matter how big or small. For more information on what to look for, contact us to speak with one of our expert representatives today!